Welcome our new Executive Director
17-10-2022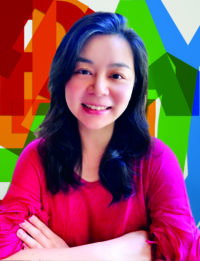 Dear Friends of Playright,   
For more than 30 years, Playright Children's Play Association (Playright) has been steadfast in our commitment to advocate for the value of play and seek societal commitment to meet the play needs of every child at the policy, planning and provision level. We are delighted to share with you another milestone in our journey of promoting children's right to play in Hong Kong. Dr. Alice C.Y. Wong (王楚怡博士) will become the new Executive Director of Playright effective November 1st, 2022, after the retirement of the current Executive Director, Ms Kathy Wong. 
Alice joins Playright at a pivotal time when, emerging from the pandemic, the need for children's play is more crucial than ever before. Alice will lead the organization to amplify play opportunities in our city and continue to safeguard children's right to play. Together with your support, we imagine building Hong Kong into a Playful City where rich play opportunities exist for children to enjoy and thrive.  
Dr. Alice Wong is an industry leader in the early education and adult learning space. For over 10 years, Alice held faculty and leadership positions in academic institutions in Canada and later in Hong Kong at Yew Chung College of Early Childhood Education. She is an experienced action-researcher, and has extensive experience in teaching, training, and curriculum development. More recently, Alice became interested in scalable innovation and systemic change to improve the quality of early childhood opportunities for young children. In 2017, she transitioned into the NGO sector and as the Chief Program Officer, she led an international, diverse team to create and support the implementation of adult training and early childhood programs in Asia including Hong Kong. Alice currently represents Hong Kong at the Asia-Pacific Regional Network for Early Childhood (ARNEC) to advance the international agenda on investment in Early Childhood. She is a recipient of the prestigious award from the Social Sciences and Humanities Research Council of Canada, and a published writer and presenter at numerous conferences and professional development workshops. Alice is passionate about children and women's empowerment, impact measurement, mental health, creative leadership, and play.  
Alice will succeed Playright's current Executive Director, Ms. Kathy Wong, who is retiring after twenty-six years in the post. Kathy was the force behind many of Playright's achievements, contributing to Playright's positioning as a thought and practice leader of play in enabling the well-being of children. Kathy is an outstanding leader for children's play, and will continue to advocate for children's rights as a member of the Commission on Children, and Vice-president of the International Play Association. We would like to take this opportunity to express our deepest gratitude for Kathy's contributions to Playright and the Hong Kong community. We wish her a happy retirement. Join us in welcoming Alice to Playright.   
Yours Sincerely,  

Anita Ma 
Playright Children's Play Association, Chairperson